Have you ever wanted to show others where you went and what your itinerary was to get there? If you're starting a photo book about your last trip around China or your latest safary through Africa, here is a tool that might come in handy.
This online tool by Karl L. Swartz generates a map of your trips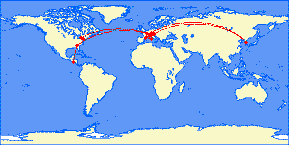 The only thing you have to tell the online application is the segments that you've made during your trips. For example, the trips I've made for work and personal travel this year are described by the following text:
TLS-CDG-ATL-SAL-ATL-CDG-TLS, TLS-CDG-GVA-BRN-GVA-CDG-TLS, TLS-CDG-YYZ-XLV-ITH-YYZ-CDG-TLS, TLS-MUC-ICN-FRA-TLS, TLS-CDG-ZRH-CDG-TLS, TLS-AJA-TLS
I used IATA codes for the places I visited but you can also use FAA, ICAO or even plain text locations in your route. In case of ambiguity, the script will ask you to select the correct one from a list of choices. That's easy! And it comes in handy…
You can even choose different map orientations for best display!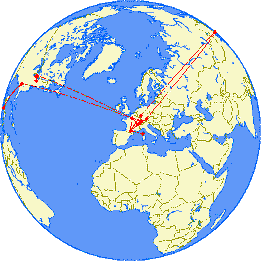 Oh, I almost forgot it, the Great Circle Mapper can be found here.