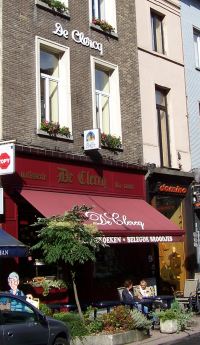 Geraardsbergen (Grammont in french) is a very interesting city in Belgium. Located not far from Brussels (40 minutes car ride), it is the host of one of the most famous Belgian history statues: Manneken Pis.
Of course; you'll say that the Manneken Pis is located near the Grand Place of Brussels and you'd be right on this remark but there is also a statue in Geraardsbergen. This is the oldest one known in Belgium and is located in a much more quiet place in Belgium where you can enjoy the nice city "ambiance".
While you visit the city, you might want to go into the De Clerq bakery! The place is charming and well decorated, the food is great and there are some tables on which you can accommodate in order to quietly enjoy the afternoon.
Patisserie Confiserie De Clercq 
Grotestraat 21 
Geraardsbergen 
Tel: 054-412505