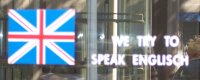 Traveling around the Toulouse region, in a path directed by hunger and satisfaction, I came across the most sincere door label I'd ever seen :)
The sign is displayed on the door to a "boulangerie" (bakery) and obviously is a call for the hungry tourist to come in and enjoy the region's specialty. Although you can also find "calissons" which are not specially typical of the region in there too.
Anyway, I think the sing says it all.