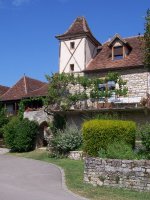 In south-western France, a little north of Cahors, located at the border of the French Midi-Pyrénées and Limousin regions, more specifically at the border of the Lot and the Corrèze department, lies the French Quercy, more specifically the Haut Quercy (high Quercy).
This former region of France which was home of the Cadurques Gauls is very rich in Limestone. The architecture and colors that can be seen in this region are a testimony of this natural resource's presence.
After a lunch in Gramat where a city wide garage sale was ongoing we reached the town of Saint-Céré. After a brake by the swans in the river, we headed towards Loubressac which is a very nice and quiet little village. Its architecture is typical of the haut quercy.
Leaving Loubressac, the village Autoire offers an incredible view of the "gorges"-like scenery it is build around. Further south the Autoire falls is a refreshing halt for any traveler.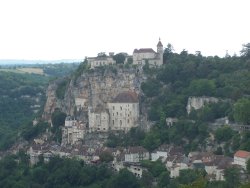 The journey isn't complete until you head towards l'Hospitalet and have a glance at the medival city of Rocamadour which is built on the rocks of a mountain.